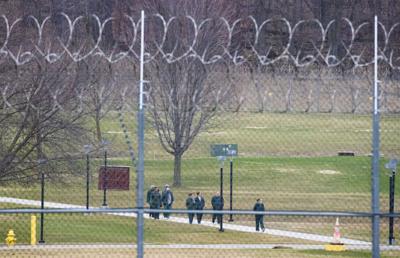 Isaiah 61 Prison Ministry
"The Spirit of the Sovereign Lord is on me, because the LORD has anointed me to proclaim good news to the poor. He has sent me to bind up the brokenhearted, and to proclaim freedom for the captives and release from darkness the prisoners," – Isaiah 61:1
The poor and disadvantaged, children, the elderly, the forgotten — these have always been at the mission of Love Feeds. We choose to be a voice for those who don't have a voice — the victimized, lost, and broken. We believe that our God is a God of justice and mercy. He is near to the broken-hearted.
Prisons are places where people are at their most vulnerable. They are broken, confused, and many times angry. The women's prison system is incredibly complicated because most incarcerated women are victims themselves. They have been physically, sexually, and verbally abused. Many have been raped and/or molested as children; they carry a lot of trauma and see very little hope for their futures. A high percentage of these women are mom's who are still emotionally and sometimes physically children themselves. In short, they are lost.
Unfortunately, this makes them easy targets for human traffickers. Many times we don't hear about human trafficking in the prison system, but in prisons, like Taycheedah Correctional Institution in Fond du lac, Wisconsin, human trafficking is common place. Traffickers are able to find easy victims all in one place, and thanks to the Internet, they can learn everything they need to contact them. Women who desperately want to be loved and cared are extremely vulnerable. Men prey on these women and offer to help them, but in truth they are grooming them to be their next victim. It starts with letter writing and phone calls, then putting money in their prison accounts, and then getting their contact information for release. Many of these women believe that these men will be the answer to their prayers. Unfortunately, the opposite is usually more accurate. To get a better understanding of how this happens, please take the time to watch and read the material below.
At Love Feeds we know that we are called to the least of these, to provide a hope and a future to the most oppressed, hurting, and vulnerable in society, and that is why we are branching out into prisons ministry, specifically focusing on women as they tend to be the most victimized. And since most of these women are mother's themselves, through reaching mothers, we can impact the lives of their children. We believe that through building caring relationships, incarcerated women will learn that God has a better plan for their lives. Life transformation happens when we invest in the lives of others.
Our prison ministry focus is all about relationships!
Currently we are serving in Taycheedah Correctional Institution, Milwaukee Women's Correctionals Center, and Robert E. Ellestworth Correctional Center.
Included below are some links to additional material about human trafficking in jails and prisons. Please educate yourself and others.
If you are interested in getting involved, please contact us. There are many ways that you can help.